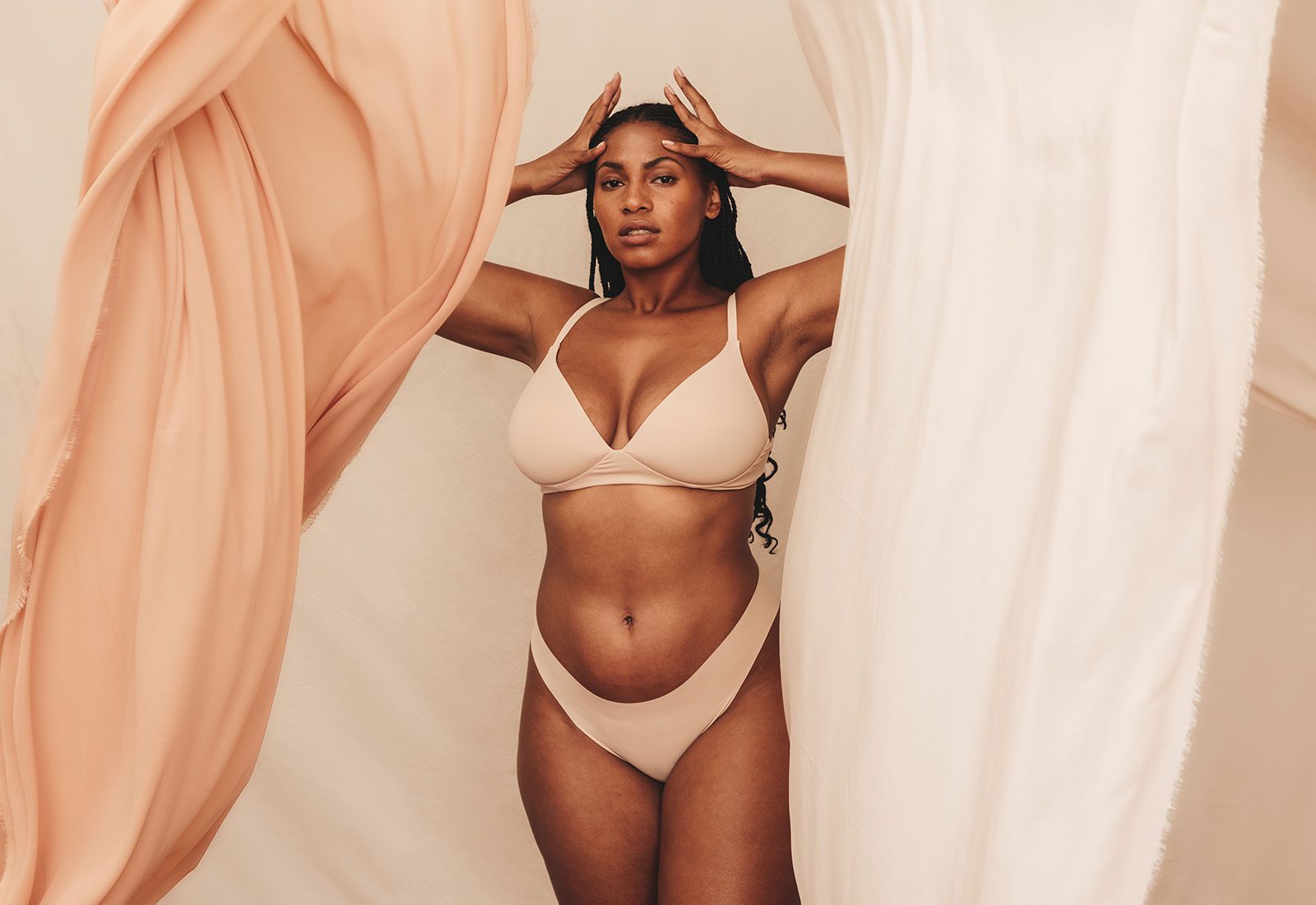 Model
Abdominoplasty
---
(Tummy Tuck Surgery)
A bulging tummy, whether due to excessive weight gain, pregnancy, aging, or weakened abdominal muscles, is a problem for many individuals. Unfortunately, this condition usually fails to respond to even strict diet and vigorous exercise programs. Once the skin and underlying muscles have been overstretched far beyond their capacity to return to the way they once looked or functioned, only surgery can help. Abdominoplasty, more commonly known as a "tummy tuck," is a surgical procedure that removes excess skin and fat from the middle and lower abdomen and tightens the muscles of the abdominal wall. This surgery can improve the contours of the waistline by flattening and narrowing the abdomen.
What Do You Desire?
---
A Toned and Firm Abdominal Core
It is one thing for the abdominal muscles to be weak because you haven't done enough crunches or sit-ups. It is another issue entirely for the abdominal muscles to be so weakened by pregnancy and/or weight gain that the abdominal wall has separated. This condition is called "diastasis recti" and cannot be corrected with exercise. Individuals with separated abdominal muscles may continue to look pregnant years after childbirth—or look pregnant when they have never had children! The only proven solution is a tummy tuck, which surgically tightens and sutures the stomach wall back together so that the core muscles can engage to produce a firm and toned abdomen.
Youthful and Tight Abdominal Skin
Skin is healthiest in young individuals. Adults often envy the soft skin of their babies and children, particularly as their own skin becomes more wrinkled and crepey with age. The skin of the abdomen is not immune to this and can lose its elasticity due to both aging and overstretching, which is what occurs during pregnancy and weight gain. Once the skin is stretched beyond its normal means, it becomes streaked with jagged stretch marks. It will not contract back to its formerly tight state but will sag loosely downward. Abdominoplasty can trim away loose, stretch-marked abdominal skin to reveal a flatter and more youthful abdomen.
A Flatter Tummy Without Fat Bulges
The abdomen is one of the body's primary fat deposits, especially as we age. After pregnancy or weight loss, persistent fat on the abdomen is not easily shed. Even those who maintain a healthy diet and active lifestyle can still struggle to combat stubborn abdominal fat left by pregnancy or aging. Abdominal fat may appear as one primary bulge or as several bulges or rolls, forming a "muffin top" or puckering above the bikini line. A tummy tuck will often include liposuction, which is a surgical technique that suctions excess fat from the body through a small tube. This process eliminates fat rolls and bulges to make the abdomen flatter and firmer.
Greater Self-Confidence
Self-perception is critical to personal well-being. When you are unhappy with an aspect of your appearance, it can cloud your opinion of yourself. Changing even a relatively small part of your body to be more in line with your self-image can have a significant impact on your life. Imagine the empowering experience of being able to wear a bikini or low-cut jeans without feeling embarrassed. By removing the damaged skin, tightening the abdominal muscles, and getting rid of the tummy rolls, it is possible to get back that flat, youthful tummy. The results of tummy tuck surgery have been known to radically boost self-confidence and improve self-image.
Model
Resolved With Tummy Tuck Surgery
Sagging, Loose Abdominal Skin
A tummy tuck addresses sagging, loose abdominal skin left by pregnancy and/or major weight loss. Beginning with an extensive incision across the lower abdomen, excess skin is trimmed away from the abdomen. Stretch marks that appear on the sagging skin of the lower abdomen are often eliminated through the process of skin removal. The belly button may also be moved to a more natural-looking location once the excess skin has been removed.
After the fat removal and muscle tightening portion of the abdominoplasty procedure, the remaining skin is then pulled tight over the underlying tissues and sealed closed. The skin of the abdomen and waistline will then lie flat, with no more sagging, hanging skin.
Weakened and Separated Abdominal Muscles (Diastasis Recti)
A tummy tuck addresses weakened and separated abdominal muscles (diastasis recti) that can occur due to pregnancy and/or weight gain. First, an incision is made in across the lower abdomen. Through this incision, the surgeon pulls the abdominal muscles closer together to close the gap in the muscle wall. The surgeon then sutures the muscles in place. Excess skin and fat are also removed, and the incision is closed. The result is a flat, firm, and toned abdomen with stronger muscle engagement and no more belly pooch.
Stubborn Belly Fat
A tummy tuck addresses stubborn belly fat that can accrue over time, especially due to aging, weight gain, and pregnancy. As a part of the tummy tuck procedure, the surgeon performs liposuction to extract the unwanted fat. The fat that is to be removed is first loosened from the surrounding tissue. This can be accomplished using either a tumescent fluid or ultrasound energy (which liquefies the fat). The surgeon then uses suction technology to remove the excess fat from the lower abdomen. Along with excess skin removal and muscle tightening through the rest of the abdominoplasty procedure, liposuction for the abdomen helps create a smoother and flatter abdominal appearance.
Concerns
---
Consultation
Before your abdominoplasty, you and Dr. Grotting will have a one-on-one consultation. During this consultation, you will discuss your abdominoplasty goals, your medical history, any history of weight gain or pregnancy, family medical history, drug allergies, substance or medicine use, and other important information. Dr. Grotting will examine your abdominal area and identify the best techniques for your needs and goals. He will go over the details of your treatment plan with you and prepare you for your surgery and recovery.
Recovery
Your tummy tuck will be performed in the fully accredited surgical facility in Dr. Grotting's office. You will spend one night over at the hotel with a sitter. Once you have been discharged, you will be driven home by a companion. For the first few days following surgery, your abdomen will likely be swollen and feel tight. This will dissipate within a few weeks. You will have temporary drains to eliminate fluid buildup and compression dressings to prevent bleeding, reduce swelling, and supported the treated areas. Dr. Grotting will give you instructions for showering, changing your dressings, and other activities.
At first, you may not be able to stand up straight without feeling a tugging sensation, but you should start walking as soon as possible. Though initially you will be stooped over, you will soon be able to straighten up completely as your body accommodates to your newly tightened abdomen. Surface stitches will be removed in two weeks. You will be placed in an abdominal support garment after surgery, which you will wear for several weeks. During this time, you must refrain from heavy lifting and straining. Your doctor will let you know when to resume your normal activities based on the extent of surgery and your progress.
It may take weeks or months to feel like your old self again. If you start out in excellent physical condition, recovery will be much faster. Some people return to work after two weeks, while others may take three weeks or longer to recuperate.
Scars
The incision for abdominoplasty extends between the hips in the lower abdomen. Dr. Grotting places this incision carefully to produce the best surgical results while allowing for any scarring to be hidden by most clothing. There may also be a small incision hidden in the navel. By carefully following your postoperative instructions and using scar minimizing techniques, you can help your tummy tuck scars to be as minimal as possible. All surgical scars tend to fade over time.
Pain
You will feel some pain and discomfort during recovery after abdominoplasty. Medication will help alleviate discomfort. Before long, the feeling will subside into soreness and fatigue followed by slight discomfort, and then you will ultimately feel back to normal.
Frequently Asked Questions
---
Is abdominoplasty a weight-loss procedure?
Abdominoplasty is NOT a weight-loss procedure. Individuals who think abdominoplasty is a weight-loss procedure are likely confusing it with bariatric surgery or other surgeries designed to help patients lose weight. Abdominoplasty should not be considered a substitute for weight loss. This procedure is designed to tone and contour the abdomen by correcting muscle tone, sagging skin, and a small amount of stubborn abdominal fat. It is best performed on individuals who are already at or near their goal weight.
---
Who is a good candidate for abdominoplasty?
Good candidates for abdominoplasty have poor abdominal skin laxity, weakened or separated abdominal muscles, and persistent belly fat that is resistant to diet and exercise. Candidates should be at or near their goal weight and must be generally healthy non-smokers (or willing to quit for several months). It is not recommended to undergo this procedure if you plan to have more children in the future, since pregnancy can reverse the positive results of abdominoplasty. Women who intend to have more children should consider postponing their tummy tuck until after their last pregnancy, at which point they will be able to enjoy their results without risking the longevity of the results.
---
How long is the tummy tuck procedure?
Depending on the extent of work required, the abdominoplasty procedure usually lasts two to five hours.
---
What are the risks of abdominoplasty?
The amount of improvement after tummy tuck surgery varies per individual. It depends upon the extent of surgery and the patient's skin tone, body build, and healing process. Postoperative complications such as infection and blood clots are rare but can occur. The greatest tradeoff for obtaining a flat abdomen is the resulting scar, which is extensive, though mostly hidden in the bikini line.
---
Can I combine tummy tuck surgery with any other procedures?
Patients can combine tummy tuck surgery with other body contouring procedures to better meet their goals. Many women combine abdominoplasty with breast surgery into what is known as a Mommy Makeover after pregnancy. Some of the procedures most commonly combined with abdominoplasty are liposuction, breast augmentation, and breast lift surgery.
---
How much does abdominoplasty cost?
The cost of abdominoplasty covers the physician's fees, cost of anesthesia, facility fees, and other related factors. Dr. Grotting will go over these details with you during your consultation and answer any questions that you may have.
---
How long will my tummy tuck results last?
The results of your tummy tuck may last for many years. The best way to ensure that your results are long lasting is to exercise regularly, eat a healthy diet, avoid weight gain, and avoid any future pregnancies.
I have the utmost respect for the integrity and skills of Dr. Grotting and his staff. Dr. Grotting is a perfectionist , and gives the look of not having a facelift. I am so glad that I chose him!