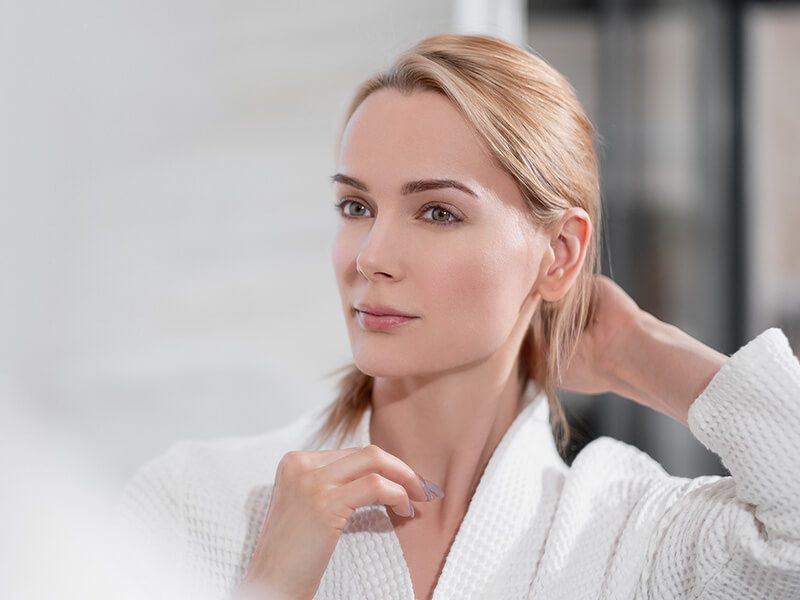 Model
Sofwave™ SUPERB™ Skin Tightening
---
Your face is often the first physical feature people notice when they meet you.
But as we age, our facial skin can begin to look old and worn out with the presence of wrinkles, fine lines, and lax skin.
These imperfections can cause many to feel discouraged about their appearance and self-conscious about the way others see them.
No matter how well you take care of your skin, your face will eventually show its age. This is because the collagen and elastin in the skin begin to break down when people are still in their 20s. Fortunately, Sofwave™ SUPERB™ skin tightening is a non-invasive cosmetic procedure that can help reduce the appearance of wrinkles and fine lines and tighten lax skin on your face to let you feel confident in the way you look.
Am I a Candidate for Sofwave™ SUPERB™ Skin Tightening?
---
Sofwave™ SUPERB™ skin tightening can help men and women who are frustrated with facial wrinkles, fine lines, and mild sagging skin caused by age or lifestyle.
One of the best qualities of the Sofwave™ system is that it can successfully work on all skin types.
Candidates should be non-smoking individuals, who are in good physical health and have realistic expectations for their results.
Dr. Grotting is the first physician in Alabama to provide this service, and at your consultation at Grotting Plastic Surgery, your facial condition will be examined to ensure that Sofwave™ skin tightening is right for you.
How Is Sofwave™ SUPERB™ Skin Tightening Performed?
---
The Sofwave™ SUPERB™ skin tightening system uses ultrasound technology to improve facial skin blemishes like wrinkles and fine lines and tighten and lift lax skin in the eyebrow, submental (beneath the chin), and neck areas.
The Sofwave™ SUPERB process takes 30 to 45 minutes to complete, and most patients require only one session to give them the results they're looking for.
Before the treatment, you will be given a topical anesthetic cream to help minimize any discomfort during the treatment. After the cream is administered, Dr. Grotting's aesthetic nurse will move the Sofwave™ handheld device over the treatment area. Sofwave™ uses Synchronous Ultrasound Parallel Beam Technology, which directs the laser energy through the epidermis (the top layer of your skin) to heat the mid-dermal tissue in the skin.
This heated tissue helps increase collagen and elastin production, which are responsible for the strength and elasticity of the skin. As more collagen and elastin are produced over the following weeks, your wrinkles and fine lines will be smoothed out, and your lax skin tightened.
Patients have reported feeling heat on their skin and some discomfort during the actual treatment. However, once the treatment is complete, these sensations should go away.
Model
How Long Is Sofwave™ SUPERB™ Skin Tightening Recovery?
One of the many benefits of Sofwave™ SUPERB™ skin tightening is that there is minimal — if any — downtime.
While your skin will be red and tender after your treatment, you will be able to return to work the next day. This means that you can improve your skin quality while not interrupting your normal life's activities. Over the first week, you will begin to see improvements in the appearance of your facial skin, and these improvements will only become more noticeable over time.
When Will I See My Sofwave™ SUPERB™ Skin Tightening Results?
After your Sofwave™ SUPERB™ skin tightening treatment, you can expect to have smoother, clearer, younger-looking skin that will make you feel comfortable and confident in the appearance of your face. Patients have reported seeing marked improvements in their facial skin after only 1 week; however, it can take up to 12 weeks for full collagen regeneration. This means that after 3 months, your face should have the natural beauty that you've been wanting.
For continued results, you may be offered to undergo a maintenance treatment every year, though this is not always the case. Maintaining a healthy lifestyle (including a good skin care routine, wearing sunscreen when outside, sticking to a balanced diet, and making sure to consistently exercise) will help prolong your results.
Interested in Sofwave™ Skin Tightening in Birmingham, AL?
If you would like to learn more about the benefits of the Sofwave™ SUPERB™ skin tightening treatment, contact the specialists at Grotting Plastic Surgery by calling (205) 930-1600 or filling out our online contact form.
This man is amazing. He's a true artist and did such a fantastic job on my breast augmentation. I'm beyond appreciative of the detail he put into speaking with me, the procedure, and far after my surgery. He also doesn't try to sell you on anything, make a consultation with him if you're considering a procedure and trust that he will tell you the truth and not just be looking out for his pocket book.