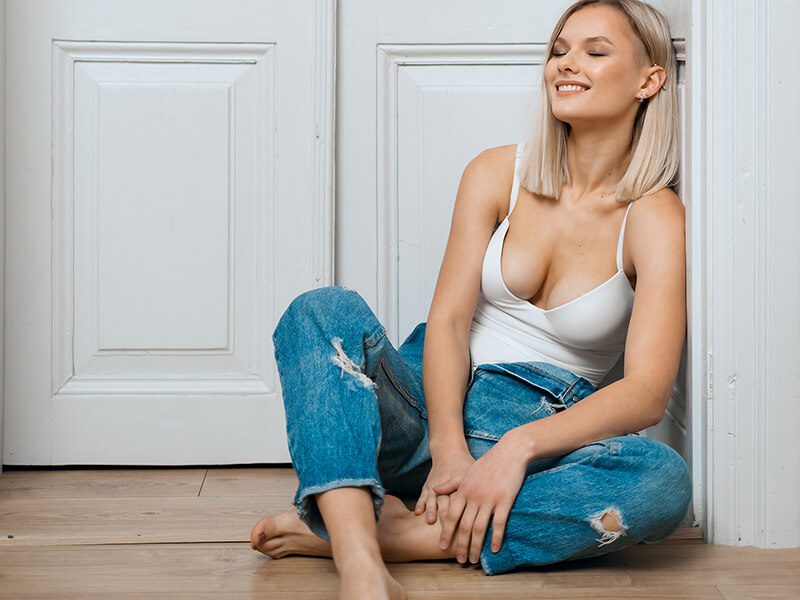 Model
Breast Augmentation
---
To many people, being a woman means having full breasts.
This strong cultural influence can be seen in modern fashion, where clothes are designed to accentuate and call attention to women's breasts and cleavage. Many young women grow up dreaming about shapely breasts, only to feel shortchanged by nature. Many others suffer unwanted changes to their breasts due to pregnancy and body weight changes. Not having the breasts you want can be a source of unhappiness. Fortunately, breast augmentation can now safely and effectively offer you what you desire. Using breast implants, Dr. Grotting can enhance the shape, size, fullness, proportion, and appearance of your breasts so that you can feel confident in your femininity and beauty.
What Do You Desire?
---
Large, Natural-Looking Breasts
Many candidates for breast augmentation have naturally small breasts. If you desire larger breasts but want to retain a natural appearance, breast implants can be used to enhance them and balance your body proportions. With the proper choice of implants, your breasts can be larger but still look natural and beautiful.
---
Full, Round, and Shapely Breasts
Some candidates for breast augmentation desire full, round, voluptuous, and shapely curves. Certain types of breast implants can create a fuller and bolder look that draws more attention and creates more cleavage. If you desire dramatically enhanced curves and full, round breasts, breast augmentation can help.
---
Youthful, Firm Breasts
Volume loss in the breasts can occur after pregnancy, weight loss, or aging. Women whose breasts were once firm and round may feel discouraged if their breasts have become saggy, flabby, deflated, and shapeless. Breast implants can recreate youthful volume and firmness to give your breasts a more defined and curvy appearance.
Model
Breast Augmentation Options
Implant Options
Because women's bodies and preferences are so unique, there are many breast implant characteristics to choose from for your breast augmentation. Breast implants are comprised of an outer silicone shell and may be filled with either sterile saline (salt water) solution or silicone gel. Additionally, implants come in various sizes, shapes, textures, and profiles. As there are pros and cons of each option, Dr. Grotting will discuss them with you in detail during your personal consultation.
Implant Placement
During your breast augmentation, the surgeon will create a pocket for the implants either directly beneath your breast tissue or beneath your pectoral muscles. If the implants are placed beneath your breast tissue (over the muscle or subglandular placement), it requires less tissue trauma and has a shorter recovery. However, patients must have sufficient natural breast tissue to cover the implant, which may not be the case for those who have smaller breasts. If the implants are placed below the muscles (under the muscle or submuscular placement), the ability to see or feel the implant is significantly reduced, and the results tend to look even more natural. Dr. Grotting can help you decide which option is best for your needs. The implants will be inserted into the breast pockets and centered beneath your nipples.
Incision Types
The physician's goal is to create optimal results while ensuring the strategic placement of the incision scars. Dr. Grotting will use one of three incision types: along the breast crease (inframammary), under the nipple-areolar complex (periareolar), or under the arm (transaxillary). Your incision type will be selected according to your personal preferences, anatomy, implant type, implant size, and other related factors.
Concerns
---
Consultation
Dr. Grotting will prepare you for your procedure by conducting a thorough and detailed one-on-one consultation. The two of you will go over important information such as your medical history, breast augmentation goals, health, and substance or medicine use. Dr. Grotting will examine your breasts and evaluate your goals to determine the best way to produce your desired results. He will also use sizers and 3-dimensional computer imaging to help you visualize your potential results with the implant type you have selected. This consultation will determine your treatment plan and help you prepare for your surgery.
---
Recovery
Recovery after breast augmentation is usually fairly short in comparison to other major surgeries. You will be placed in a post-surgical bra that clasps in the front to avoid raising your arms over your head or behind your back after surgery. Dressings and stitches are removed about one week after the surgery. You should be up and about within a couple of days after surgery, but you will be sore and tired for about a week. Expect the initial swelling to subside within a month. Dr. Grotting will provide you with specific instructions to follow to ensure a safe, speedy, and healthy recovery.
---
Scars
Incision scars are generally unavoidable. Dr. Grotting is careful to make the incisions as precise and discreet as possible so that they will be inconspicuous. Surgical scars are typically well-hidden and well-tolerated, and they are likely to fade over time.
---
Pain
Soreness and discomfort may persist during the first week or so of recovery. Prescribed medications can be taken, as instructed, to control any discomfort.
Frequently Asked Questions
---
Should I get silicone or saline implants?
Approximately 90 percent of our patients choose silicone gel implants. However, this does not mean that silicone implants are best for everyone. For instance, patients younger than 22 are not eligible for silicone implants. Saline implants are more affordable, which may make them a better option for patients whose financial situations are more limited. Saline implants may also be better for patients who have particular concerns about surgical scarring, as the implants can be inserted through a smaller incision site and then filled after insertion. Silicone implants tend to yield a more natural appearance and feel, which has made them a more popular choice among many women. They are also less likely to rupture. Dr. Grotting can help you choose which implant type is best for you during your consultation.
---
What breast implant size should I get?
There is no easy answer to this question. Both your anatomy and your desired cosmetic appearance should affect your decision on breast implant size. There may need to be some reconciling of the two matters if they conflict. For example, if you have naturally small breasts with little breast tissue, it may be difficult to achieve large, voluptuous breasts. Based on his extensive experience as a plastic surgeon, Dr. Grotting will recommend options that can give you a beautiful and feminine appearance based on both your realistic goals and your anatomic realities.
---
What kind of anesthesia is used for breast augmentation?
Most of the time, breast augmentation surgery is performed under general anesthesia. Some patients may be given the option of local anesthesia combined with intravenous sedation.
---
How much will breast augmentation surgery cost?
The cost of breast augmentation includes many factors, such as the surgeon's fees, anesthesia fees, facility fees, and breast implant cost. Dr. Grotting will discuss the cost with you during your personal consultation.
---
What are the risks of breast augmentation?
Breast augmentation is a safe procedure, but there are risks with any surgery. Some of these include infections, reactions to anesthesia, fluid build-up, and implant complications such as capsular contracture. Dr. Grotting can go over these with you during your consultation if you would like more information. Most patients have a safe surgery and recovery and are able to enjoy their results for many years without complications.
---
Can breast augmentation surgery correct breast asymmetry?
Breast augmentation surgery can correct asymmetries in breast size, shape, and position. Dr. Grotting can use breast implants to balance and reproportion the breasts in relation to each other and the rest of the body.
---
Will breast augmentation lift my breasts?
Breast augmentation does not lift sagging breasts, but it may be combined with a breast lift to do so. If your breasts are in need of shape, size, and positional improvement, talk to Dr. Grotting about the option of undergoing a combined breast augmentation with lift.
---
When will I see my results after breast augmentation?
The results will become noticeable soon after your procedure as the swelling subsides. Your implants will at first appear high on the chest, but within a few months, they will settle into a more natural and final resting position.
---
How long do breast augmentation results last?
Breast augmentation results can last for many years. Most women can keep their implants for as long as they desire.
I was extremely happy with everyone in the office. Whenever I had a question or problem, Vicki (especially) got back to me almost immediately and helped figure out a way to remedy the issue. Everyone was very nice in the office. My breast augmentation is perfect and very fitting for my body.