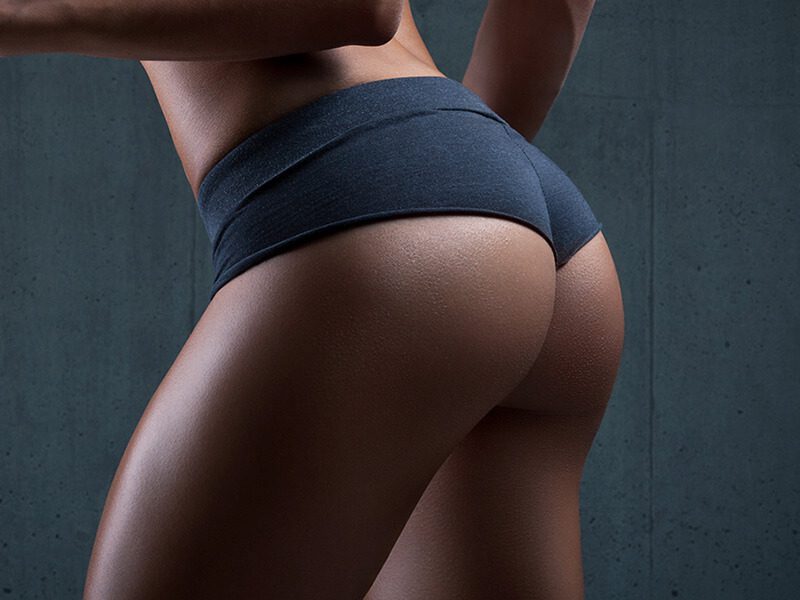 Model
Brazilian Butt Lift (BBL)
---
in Birmingham, AL
If you are unhappy with the appearance of your buttocks because it's smaller than you prefer, you may have considered buttock augmentation with fat grafting, also known as a Brazilian Butt Lift (BBL). This is a very popular cosmetic procedure, and having it performed by a qualified plastic surgeon is essential.
Dr. James Grotting is a well-respected, board-certified plastic surgeon who understands the nuances of BBL and is committed to delivering excellent Brazilian Butt Lift results safely in Birmingham, Alabama.
Schedule your BBL consultation by calling our Birmingham office today at (205) 930-1600 or scroll down to contact us online.
Am I a Candidate for a BBL?
---
Several criteria can determine your candidacy for the Brazilian Butt Lift:
Good health – You should be healthy enough for surgery. While less invasive than some other cosmetic procedures, BBL does involve surgery and carries risks similar to more extensive operations.
Non-smoker – Tobacco use of any kind increases the risks of serious complications such as bleeding and blood clots. Nicotine avoidance should be followed for four weeks before and after your BBL.
A desire for a shapely and more prominent butt – You should be sure you want to increase the size of your buttocks and are ready for the additional attention.
Realistic expectations – You should have realistic expectations regarding the outcome of your procedure. By being candid about your goals during your consultation with Dr. Grotting, you help ensure you achieve the volume and shape your desire. He will also explain that some of the transferred fat is absorbed by the body, so your buttocks may appear bigger at first, but over time, your final results will become clear.
How Is a Brazilian Butt Lift Performed?
A Brazilian Butt Lift involves fat grafting, which harvests fat from one area and adds it to another. BBL is completed in multiple steps:
Typically BBL is performed under general anesthesia, but sometimes, in cases where only a small amount of fat is transferred, only local anesthesia may be used.
Liposuction removes fat from the body, such as the hips, abdomen, or thighs. This requires tiny skin incisions through which a thin tube (cannula) is inserted. This tube is attached to a powerful medical vacuum used to suction unwanted fat from the body into a sterile container.
The harvested fat is purified and prepared for transfer.
The purified fat is injected into several targeted areas of the buttocks to increase volume and sculpt the desired shape.
All the necessary incisions are sutured closed, and a compression garment is placed over the affected areas to minimize swelling and help support the new shape of your buttocks.
Most Brazilian Butt Lifts take between two and three hours.
Model
What Can I Expect During My Brazilian Butt Lift Recovery?
The biggest drawback of BBL is not being able to sit on your butt for two weeks, or you can interfere significantly with your recovery and results. You'll have to sleep on your stomach or side until completely healed, and you can expect your buttocks to be swollen for several weeks.
Will I Feel Any Pain During My Brazilian Butt Lift?
Due to anesthesia, you should not feel any pain during the surgery. However, you will experience swelling, bruising, and soreness that improves gradually for a week or two. You will have pain medication prescribed to manage discomfort.
Are There Risks Associated With the Brazilian Butt Lift Procedure?
BBL carries some risks which are unique to the procedure. Some serious complications can occur; however, these risks can be mitigated by making sure you are using a highly qualified plastic surgeon like Dr. Grotting whose team is focused on keeping you safe. Possible complications include:
Infection
Scarring
Lumps, bumps, or cysts under the skin
Fat embolism in the heart or lungs which can be fatal
What Will My Brazilian Butt Lift Results Be Like?
---
After healing completely from BBL, you should have a plumper and shapelier butt that is firm and sexy.
How Long Will It Take Until I See My Final Results?
Final results can usually be appreciated by the sixth month after your Brazilian Butt Lift.
How Long Will My Brazilian Butt Lift Results Last?
Unless you experience considerable weight fluctuations, you can expect your BBL results to last many years. Because your buttocks will now have a greater amount of fat cells, this area will be more susceptible to weight fluctuations, both gains and losses.
Model
Schedule a Consultation
Your Birmingham, AL Brazilian Butt Lift Expert
You can trust Dr. Grotting to prioritize your safety and desired results by listening carefully to your concerns and goals while being meticulous in his surgical approach.
Dr. Grotting's friendly and helpful staff are happy to answer any questions you may have. Learn more by calling our Birmingham BBL expert today at (205) 930-1600.
Frequently Asked Questions About Brazilian Butt Lifts?
---
How much is a BBL?
The cost of your Brazilian Butt Lift will vary depending on the extent of your surgery and external fees for the facility, surgeon, and anesthesia.
Dr. Grotting will provide you with an accurate cost estimate during your consultation. Remember that if a price for BBL seems too good to be true, it may be. Avoid cheap or discounted BBL procedures and make sure your cosmetic surgeon is board-certified in plastic surgery.
---
Can a Brazilian Butt Lift be combined with other surgical procedures?
Be careful when a cosmetic surgeon suggests performing another surgical procedure (besides liposuction) at the same time as BBL. While some limited contouring can be done, a thigh lift, for example, other surgeries like breast enhancement or a tummy tuck are very selectively advised.
Because the BBL procedure is significant surgery and recovery is unique, it is one of the few cosmetic surgeries that are not commonly combined with others when larger volumes are injected. However, your treatment plan may consist of more than one procedure, including a Brazilian Butt Lift, but most likely, the other surgeries may be performed at a different time.
These procedures might include:
Arm lift – Brachioplasty is a simple cosmetic surgery that can deliver dramatic results by eliminating unwanted fat and excess skin on the upper arm.
Tummy tuck – Like an arm lift, an abdominoplasty addresses excess fat and skin, but on the belly. Abdominal muscles are also tightened during a tummy tuck.
Fat removal – Liposuction is always performed as part of the BBL process, but if your treatment plan includes multiple areas, you may require an additional liposuction procedure.
---
Is there an alternative to BBL?
Another surgical approach is buttock implants which involve more invasive surgery and a more extensive scar. If you do not have sufficient fat to inject, implants may be your best alternative.
Injectable fillers can be used to increase the size of the buttocks but are severely limited in their ability to sculpt the desired shape.