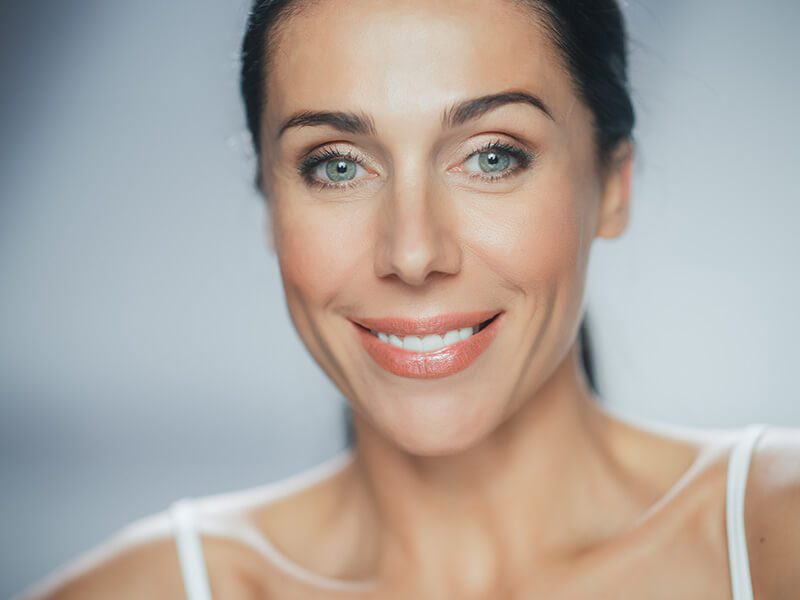 Model
Injectables
---
No matter what we do to prevent the progression of visible aging, some things are beyond our reach and unfortunately inevitable. The progression of time, sun exposure, and constant wear and tear of our skin brings wrinkles, fine lines, and facial fat loss. These changes often affect self-image and confidence by creating a disconnect between the age one looks and the inner vitality one feels. Injectables offer minimally invasive techniques to combat the visible signs of aging such as wrinkles, fine lines, crow's feet, and depressed facial areas. Through injectable treatments, Dr. Grotting can help you regain youthful skin and contours, allowing you to feel rejuvenated and confident.
What Do You Desire?
---
Smooth Skin
Time, sun exposure, and constant facial movements all contribute to the loss of our skin's collagen and elastin, compounds responsible for giving skin its strength and structure. With this loss comes wrinkles, laugh lines, and crow's feet. Injectables correct these wrinkles, giving you smoother and more youthful skin.
---
Youthful Facial Contours
As we age, our faces begin to lose the underlying facial fat that gives us our youthful contours. Even bony anatomy, teeth, and gums lose mass. By adding volume to the "depressed" areas on our faces such as the cheeks, lips, and around the mouth, you can return youthful definition and shape to your profile. In essence, you can turn back your own aging clock!
---
Enhanced Self-Image
There is clearly a connection between how one looks and how one feels. When you're more confident about your appearance, you're more confident about just about everything in your life. Wrinkles, folds, and sunken features can damage self-image and confidence levels. Injectables can help correct that "worried" appearance and leave you looking refreshed and rejuvenated.
Model
Injectable Options
Fillers
Fillers are injected into targeted areas to restore fullness to the face.
Substances used in this process such as Restylane®, JUVÉDERM®, and RADIESSE® are typically made of hyaluronic acid. They are generally used to fill creases and grooves around the eyes and mouth as well as to smooth fine lines and enhance the definition of a patient's cheeks and lips.
Neurotoxins
These injectables work to remove fine lines and wrinkles by softening facial muscle movement.
BOTOX® Cosmetic, Dysport®, and XEOMIN® are all products that decrease muscle movement in the face, particularly around the eyes, eyebrows, and forehead, in order to smooth existing wrinkles and prevent further development of fine lines.
Fat Injections
Fat injections (a.k.a. "fat grafting") safely and effectively fill deep wrinkles, folds, and sunken areas on the face.
Fat grafting involves removing fat from a "donor" location (such as the hips, abdomen, inner thighs, or outer thighs), purifying the fat, and injecting it into the desired treatment area. Since your own fat is used, there is no risk of rejection or allergic complications. Variable amounts of the fat heal in place, but what does survive will live there permanently in its new location.
Concerns
---
Consultation
During your consultation, Dr. Grotting will listen to your concerns, examine your skin quality and degree of visible aging, and advise you on which treatment method is best for you.
Although all injectable options work to provide smoother skin and healthier facial definition, each approach is different.
---
Recovery
You may experience swelling and bruising that peaks during the initial 24 hours of treatment.
The bruising and swelling are normal and usually subside within 2 to 3 days. You can apply concealer makeup to mask any resolving bruising. Arnica and bromelain can ease the recovery.
---
Scars
As injectables are not surgical treatments, there will not be any visible scarring.
For fat injections, there may be a small needle mark at the donor site that typically fades over time.
---
Pain
Although pain is minimal, you may experience a "stinging" sensation in the injected area.
This discomfort is temporary and can be treated effectively with over-the-counter pain medication.
Frequently Asked Questions
---
Are injectables alternatives to facelift surgery?
Injectables can provide stunning results and visibly reduce the signs of aging. Nonetheless, injectables are not an alternative to facelift, eyelid lift, or brow lift surgeries. Unfortunately, there is no minimally invasive or non-invasive treatment that can match the results of facial aesthetic surgery.
---
How soon will I see my results?
Results become noticeable as soon as the bruising and swelling subside, but it may require weeks and months as collagen production is stimulated or as transferred fat takes hold with normal healing.
---
Do injectables require anesthesia?
Although these are minimally invasive options, there will still be some pain at the injection site. Topical anesthetic cream and injectable local anesthesia are frequently used to numb the area and allow for a comfortable treatment. Many of the injectables also contain local anesthetics that numb the areas immediately as the injection takes place.
---
How long will injectables last?
Injectables are not permanent solutions to combat visible signs of aging, and repeat treatments are necessary to maintain your results. The durability of your results will depend on the type of injectable as well as where the filler is placed. Filler tends to disappear a little faster from the lips than areas like the cheeks or brow. Eventually, all of these substances will be absorbed by your body. While they improve signs of aging, injectables do not prevent the inevitable progression of aging.
---
What is the difference between BOTOX® Cosmetic and fillers?
BOTOX® Cosmetic is made from a neurotoxin that inhibits muscle movement in the face to smooth lines and prevent the further development of wrinkles, while fillers are substances that are used to correct loss of facial volume, which also smooths fine lines and wrinkles. The two treatments have slightly different applications depending on your specific needs.
---
What are the potential risks of injectables?
Injectables are safe and effective treatments for combating signs of aging. Although rare, potential risks include:
Infection
Bruising
Skin rash
Skin redness
Allergic reaction
Uneven correction
Dr. Grotting and the staff at his Birmingham, Alabama practice will provide you with specific instructions to reduce your risk of complications.