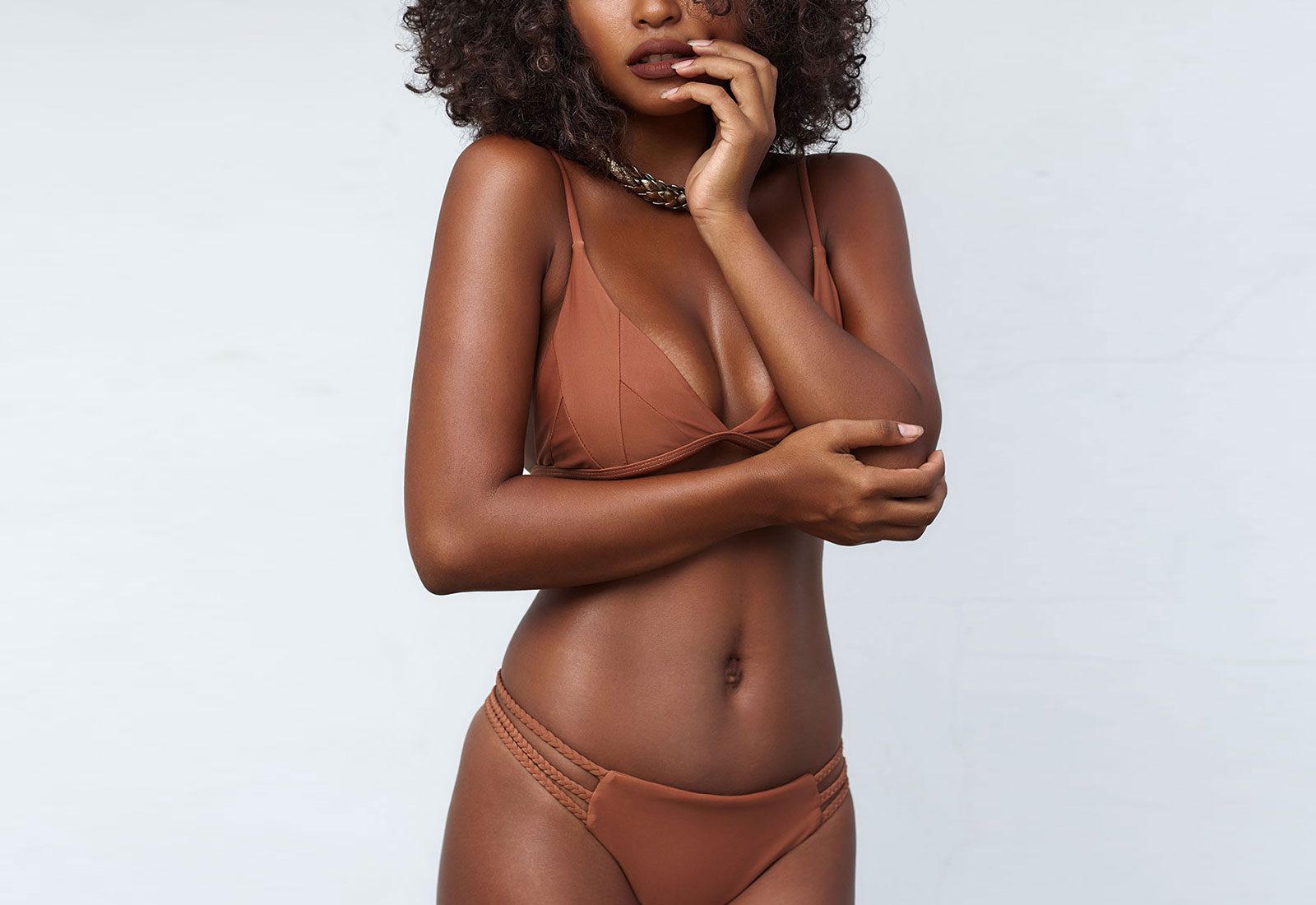 Model
Liposuction in Birmingham, AL
---
A healthy diet and exercise regimen are important for maintaining a consistent weight, but sometimes it isn't enough to eliminate stubborn pockets of fat in the body. This can be extremely frustrating, especially when it feels like you're doing everything right.
Both men and women can experience diet and exercise-resistant fat on various parts of the body, including the hips, buttocks, thighs, abdomen, chest, and neck. Liposuction can help you finally eliminate these areas of excess fat for a smoother, toned contour.
Model
Am I a Candidate for Liposuction?
Candidates for liposuction should be close to their ideal weight but would like to eliminate refractory pockets of fat resistant to diet and exercise. Liposuction candidates should also be in good health, not smoke, and have realistic expectations for results.
If you are interested in this contouring procedure, Dr. Grotting can evaluate your candidacy and create a treatment plan during your liposuction consultation. Although liposuction is not an alternative to a healthy lifestyle, it can really help give you a headstart on your journey to a better figure.
How Is Liposuction Performed?
Each liposuction procedure will vary according to the location and size of the treatment area and the extent of reduction necessary. Liposuction is performed under local or general anesthesia for optimum comfort, and your choices will be explained further during your consultation. The right anesthetic for you often depends on whether you combine liposuction with any other procedure or have fat reduction performed in more than one location.
Dr. Grotting will make small, inconspicuous incisions near the treatment areas. A small, thin tube called a cannula will be inserted into the incisions to loosen the fat cells. Dr. Grotting can then remove these cells through the cannula, slimming and creating a smoother contour until the desired appearance is achieved.
What Are the Benefits of Liposuction?
Liposuction can give you results you otherwise aren't seeing from diet and exercise. By permanently and safely removing fat cells from a specific area, you can significantly improve your aesthetic body contouring goals. Other benefits of liposuction include:
Versatility of treatment areas and the amount of fat reduction
Minimal recovery time
Reveal muscle tone and definition through the removal of fat
Reduces fat in hard-to-treat areas
While liposuction is not considered a weight loss solution, it can provide slimming results in areas notorious for harboring fat, such as the arms, thighs, abdomen, neck, and chest.
How Long Does Liposuction Take?
The length of your procedure will vary depending on the number of areas treated, the liposuction technique used, and the type of anesthesia. Dr. Grotting can provide you with a more detailed surgical plan during your consultation, but liposuction procedures generally take one to three hours to complete.
What Can I Expect During Liposuction Recovery?
Liposuction is less invasive than other body contouring surgeries and requires shorter downtime and recovery. While every patient is different, and recovery time will vary based on the extent of reduction, the number of treatment areas, and your natural healing process, most of Dr. Grotting's liposuction patients return to work after a few days.
Liposuction is an outpatient procedure; you can return home after surgery. You should plan to have someone drive you home following the procedure, as you will be recovering from anesthesia.
You will need to keep your surgical site dressing in place for seven to 10 days. Dr. Grotting may have you wear a surgical compression garment for up to six weeks to keep the treatment area supported and reduce swelling.
Will I Feel Any Pain During Liposuction?
Your liposuction procedure will be performed with local or general anesthesia, depending on the area of treatment and the suggestions of Dr. Grotting based on your medical history and the nature of your surgical plan.
Either way, you will feel no pain during the liposuction procedure.
Are There Risks Associated With Liposuction?
There is always some level of risk associated with surgical procedures. While liposuction is considered a less invasive body contouring procedure, the level of risk increases with a greater number of areas treated.
Dr. Grotting prioritizes patient safety, so your procedure will only be conducted with utmost care and consideration for underlying risk.
Associated risks with liposuction include:
Minor skin surface irregularities
Loose skin around the treatment area
Temporary numbness and pigmentation changes
What Will My Liposuction Results Be Like?
Following liposuction, you can expect a slimmer treatment area with visible fat reduction, a more contoured profile, and depending on the area, greater visibility of muscle tone.
How Long Will It Take Until I See My Final Liposuction Results?
It can take weeks or months for swelling to fully subside. You will notice immediate results; however, full results are visible once the swelling resolves which normally takes up to three months
How Long Will My Liposuction Results Last?
Liposuction permanently removes fat cells. While your body will not produce new cells, you can still gain weight in other areas around the treatment area (and remaining fat cells can still grow in size). Maintaining a healthy diet and exercise routine is essential to keep your toned physique. If you keep your goal weight, you can enjoy your liposuction results for years.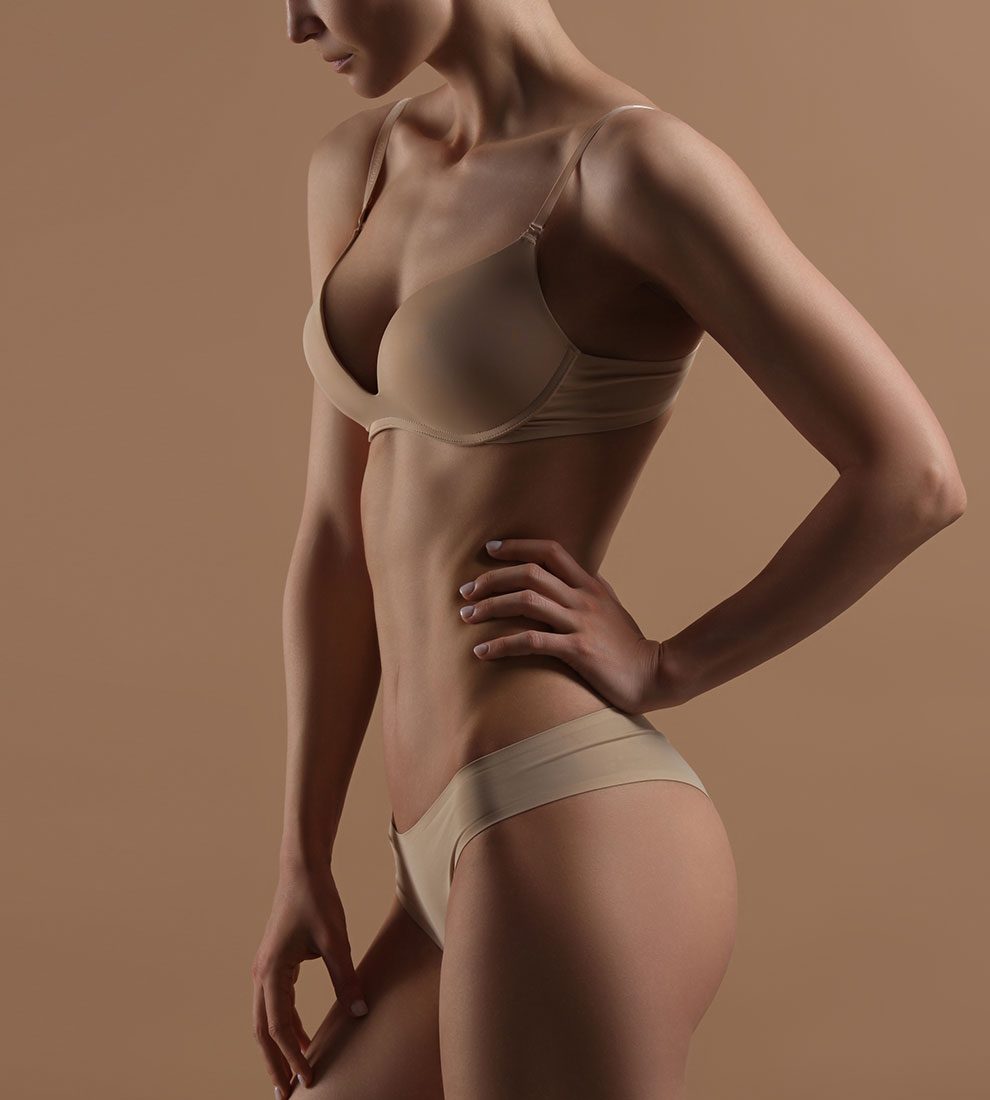 Model
What Are Some Frequently Asked Questions About Liposuction?
How much is liposuction?
The cost of liposuction in Birmingham, Alabama, will vary depending on the extent of your procedure, the techniques used, and external fees like facility, surgeon, and anesthesia fees.
As liposuction is a versatile and personalized surgery, Dr. Grotting can give you an accurate cost estimate once your treatment plan has been created.
Will I have scars after liposuction?
As the instrument used to remove fat is very thin, the incisions are very small. Dr. Grotting will only make incisions where necessary and in the most inconspicuous place possible. Your scarring from liposuction should be minimal (if any) and fade with time.
Can liposuction be combined with other procedures?
Yes. Liposuction is very commonly paired with other body contouring procedures.
Mommy Makeovers are a collection of procedures that typically enhance the areas of a woman's body affected by pregnancy, breastfeeding, weight loss, and the natural aging process. With this surgery, women can choose a combination of procedures to target areas specific to their personal concerns and goals. Many women incorporate liposuction for the thighs, abdomen, and hips with their Mommy Makeovers.
Tummy tucks also pair well with liposuction if the patient has excess fat around the abdomen and midsection.
Additionally, procedures that involve fat grafting require liposuction:
The Brazilian Butt Lift (BBL) is a two-in-one procedure where patients can select an area of the body with excess fat, such as the hips, thighs, or abdomen, and redistribute it into the buttocks for a firmer, enhanced backside.
Facial fat grafting is another great use of liposuction, similar to the BBL. Dr. Grotting will remove the fat from a specific area of the body before reinserting it into specialized areas of the face for a more sculpted, youthful appearance of the lips, cheeks, or jaw.
Is there a non-surgical alternative to liposuction?
While no non-surgical treatment will have quite the same effect as a surgical procedure, CoolSculpting® treatments offer a non-invasive alternative for fat elimination of the abdomen and hips.
I have the utmost respect for the integrity and skills of Dr. Grotting and his staff. Dr. Grotting is a perfectionist , and gives the look of not having a facelift. I am so glad that I chose him!