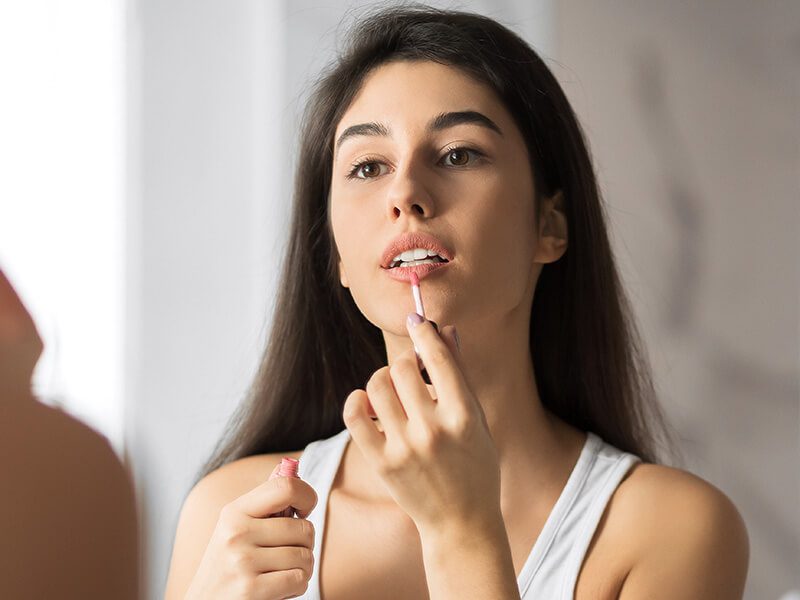 Model
Lip Augmentation
---
Luscious, plump, beautifully shaped lips are a common desire for most women. Whether you want a subtle increase in size and shape or dramatically larger lips by drastically increasing volume for a more sensuous appearance, there is an option that will work for you. This look can be achieved through lip augmentation and injectable fillers such as Restylane® or JUVÉDERM®.
Ideally, your bottom lip should be almost twice as large as your upper lip, which is composed of three segments consisting of two lateral triangular elements connected to a central portion between the philtral columns of what is called the "Cupid's bow" of your lips. The lower lip has two segments with a midline cleft, and on either side are the two "eggs" of the lower lip. During your consultation, your facial structure will be examined, and recommendations will be made regarding which techniques can be used to achieve your desired cosmetic outcome.
Candidates for Lip Augmentation
Being in good health and having realistic expectations are important when considering lip augmentation, and if you are dissatisfied with the way your lips appear, then lip augmentation may be an excellent option for you. Lips that have lost volume, look flat, or have developed vertical lines can regain their fullness, the skin can be smoothed out, and the shaping can be refined through lip augmentation.
Model
Schedule a Consultation
Lip Augmentation Process
---
The corners of the mouth, called the commissure, sometimes develop a groove or crease which can lead to the edges of the mouth curving downward, resulting in an upset or sad expression. Deep creases sometimes form around the lips and can be treated with fillers, laser resurfacing, or chemical peels depending on your preferences. Many patients select fat grafting as an option for filling the deflated or sunken areas of the face to enhance your smile.
---
Fat Grafting
In some cases, patients desire to remove fat from certain areas of the body (most commonly the stomach, hips, or thighs) to be purified of oils, blood, and other impurities and then injected into other parts of their body. Small incisions are made in the fat transfer area to insert a thin tube used to suction out the excess fat gently. This process requires anesthesia to ensure a safe, painless procedure. Benefits of a fat transfer, or fat grafting, include long-lasting results through the filtration process to produce 'nanofat' that is a filler made from the patient's fat cells, and then administered using a fine needle to fill wrinkles. This method is natural, long lasting, and has a significantly reduced risk of allergic reaction.
---
Lip Lift
Aging can cause the upper lip to become longer, which affects how many teeth are shown when you smile. For patients with this symptom, a lip lift procedure can benefit the smile by shortening the upper lip to achieve their desired result. By making tiny incisions at the base of the nostrils, this technique is very effective in reducing the upper lip and is ideal for patients who are not prone to scar formation.
---
Fillers
Patients seeking less invasive procedures typically select hyaluronic acid injectables to fill their smaller, finer lip wrinkles. There is no recovery time or scarring as a result of this method. A topical numbing cream is applied, along with ice, to reduce sensation in the injection site. The filler is then injected using a fine needle, and the amount is adjusted for precision to achieve your preferred results. These injectables are conveniently administered in the office and take approximately 15 minutes to complete.
Model
Recovery
While some patients experience a stinging sensation around the site after lip augmentation, it can be relieved using non-prescribed pain medications bought over the counter. Injectables are non-surgical, so there are no scars or visible permanent marks, whereas liposuction can leave small scars depending on the fat transplant location. Occasionally, patients encounter bruising and swelling that can last up to three days. Arnica can be used for reducing inflammation, and Bromelain can help with bruising. Both are available in Dr. Grotting's office.
Results
Patients who have undergone lip augmentation enjoy smoother, fuller, younger-looking lips and filler effects can last up to one year or longer if fat is used. Enhanced lips can make you feel more attractive and you will be proud to show them off.