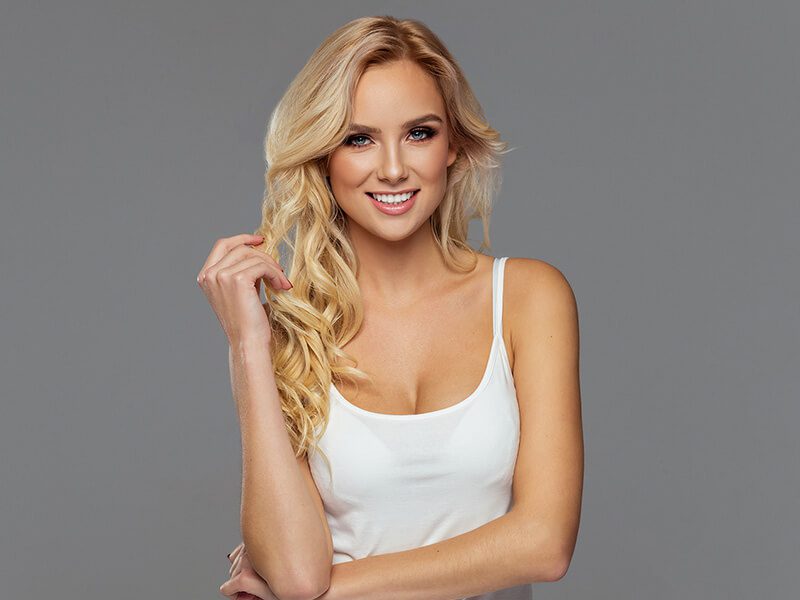 Model
Breast Lift
---
Natural changes can rob you of the full and youthful breasts you once had.
Aging, pregnancy, nursing, and gravity can all weaken your breast tissue, and laxity can set in over time. Eventually, your breasts may start to droop, resulting in an unattractive shape and position. Sagging breasts are marked by tissue that sits below the inframammary crease and poor nipple projection. No longer having the breasts of your youth can leave you feeling less confident and self-conscious of your breast appearance. Breast lift surgery is an enhancement procedure tailored specifically to you that repositions and shapes the breasts for a more attractive and youthful look.
What Do You Desire?
---
Natural-Looking Breasts
When considering any breast enhancement surgery, many women want to ensure that their breasts appear natural and unaltered. Dr. Grotting tailors all breast lift procedures to his patients. He shapes and repositions the breasts so they look as if they have always been this attractive.
---
Perky and Youthful Breasts
Women who develop breast laxity can feel that their breasts lack the perky and youthful quality they once had. In addition to lifting the breast tissue, we also adjust your nipple projection so they point forward rather than at the floor. This combined with restored firmness can give you more perky and youthful breasts.
---
Shapely and Full Breasts
The process of lifting the breasts can restore a full appearance in women with adequately sized breasts. However, if you feel that your breasts lack volume, we can combine implants with your surgery. Implants are the most effective way to achieve a precise size increase in your breasts. No matter your needs, we can create a procedure to give you your desired fullness.
Model
Breast Lift Options
Incision Placement
The physician's goal is to create optimal results while ensuring the strategic placement of the incisions. With a breast lift, the ideal incision varies depending on the extent of correction you require. Dr. Grotting will use one of three incision types: periareolar (for mild cases), lollipop (for moderate sagging), or anchor (for extreme sagging). All techniques use an incision placed around the areola. The extent of your incisions along the lower breast tissue will depend on the severity of your laxity.
Nipple-Areola Complex Repositioning
It is common for breast sagging to be associated with poorly positioned or sized nipples and areolas. Your nipples may be placed low on the breasts or have a downward projection. We reposition the nipples on the breasts so they have a more pleasing projection and the breasts have a natural appearance. Additionally, enlarged areolas can be a problem with drooping breasts. When we readjust the nipple-areola complex, we can reduce the size of the areola so they are more in balance with the rest of the breast.
Combining With Implants
If you and Dr. Grotting have determined that your breasts lack attractive volume in addition to being lax, you may consider combining implants with your breast lift. Combination procedures are not only time- and cost-effective, but they can also save you heartache down the road. Implants inserted without addressing the weakness in the breast tissue are more likely to develop bottoming out or double bubble deformity. Combining your breast lift with implants will give you the attractive breast appearance you desire while providing you with longer-lasting results.
Concerns
---
Consultation
Dr. Grotting will prepare you for your procedure by conducting a thorough and detailed one-on-one consultation. The two of you will go over important information such as your medical history, breast lift goals, health, and substance or medicine use. Dr. Grotting will examine your breasts and evaluate your goals to determine the best way to produce your desired results. This consultation will determine your treatment plan and help you prepare for your surgery.
---
Recovery
Recovery after breast lift surgery is usually fairly short in comparison to other major surgeries. You will be placed in a post-surgical bra that clasps in the front to avoid raising your arms over your head or behind your back after surgery. Dressings and stitches are removed about one week after the surgery. You should be up and about within a couple of days after surgery, but you will be sore and tired for about a week. Expect the initial swelling to subside within one month. Dr. Grotting will provide you with specific instructions to follow to ensure a safe, speedy, and healthy recovery.
---
Scars
Incision scars are generally unavoidable. Dr. Grotting is careful to make the incisions as precise and discreet as possible so that they will be inconspicuous. Surgical scars are typically hidden well, and they are likely to fade over time.
---
Pain
Soreness and discomfort may persist during the first week or so of recovery. Prescribed medications can be taken, as instructed, to control any discomfort.
Frequently Asked Questions
---
What kind of anesthesia is used for breast lift surgery?
Most of the time, breast lift surgery is performed under general anesthesia. Some patients may be given the option of local anesthesia combined with intravenous sedation.
---
How much will breast lift surgery cost?
The cost of breast lift surgery includes many factors, such as the surgeon's fees, anesthesia fees, facility fees, and the extent of correction required. Dr. Grotting will discuss the cost with you during your personal consultation.
---
What are the risks of breast lift surgery?
Breast lift surgery is a safe procedure, but there are risks with any surgery. Some of these include infections, reactions to anesthesia, and fluid buildup. Dr. Grotting can go over these with you during your consultation if you would like more information. Most patients have a safe surgery and recovery and are able to enjoy their results for many years without complications.
---
Can breast lift surgery correct breast asymmetry?
Breast lift surgery can correct asymmetries in breast shape and position. Dr. Grotting can add implants to balance the size of the breasts in relation to each other and the rest of the body.
---
When will I see my results after my breast lift?
Your results will become noticeable soon after your procedure as the swelling subsides. Residual swelling that lasts up to six months can impact the look of your breasts.
---
How long do breast lift results last?
Breast lift results can last for many years. However, a lift does not stop the natural aging process, and you may see small changes in your breasts over time.
I was extremely happy with everyone in the office. Whenever I had a question or problem, Vicki (especially) got back to me almost immediately and helped figure out a way to remedy the issue. Everyone was very nice in the office. My breast augmentation is perfect and very fitting for my body.