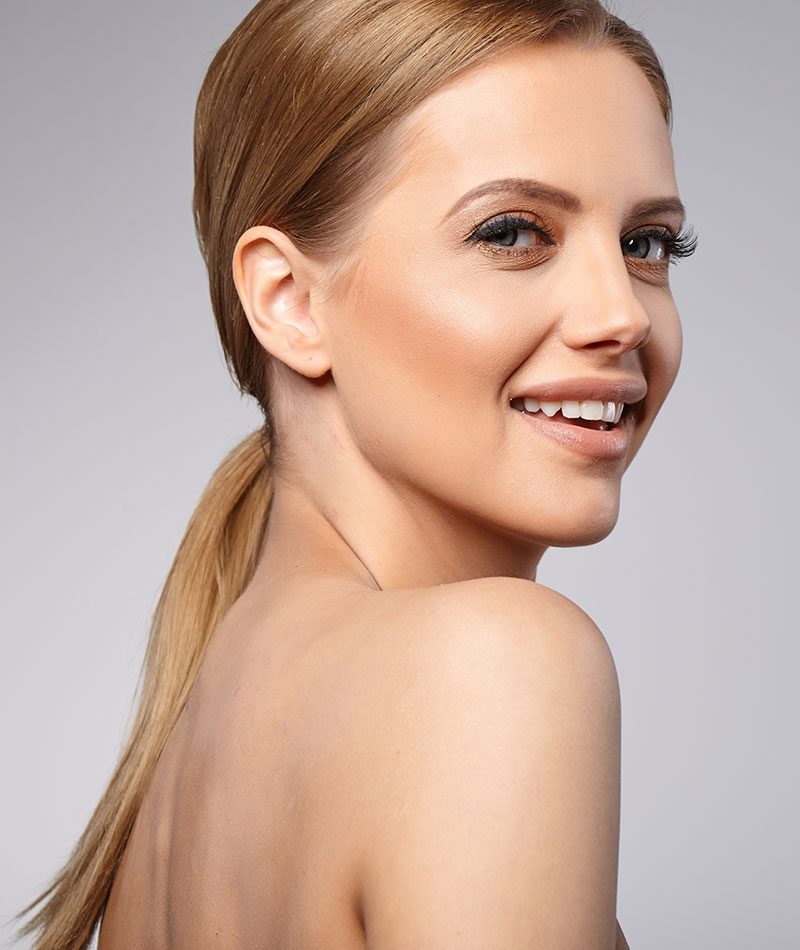 Models
Powder Brows and Microblading
---
in Birmingham, AL
Nicely shaped, full, and defined eyebrows provide a neat and attractive frame for your face, helping make you appear more polished and elegant.
However, many women (and men) experience hair loss in this area, leading to sparse eyebrows. This can be caused by several factors, including:
Aging
Genetics
Vitamin deficiencies
Hormonal fluctuations
Chronic overplucking and waxing
You may have tried using cosmetic products like pencils, gels, or powders to fill in and shape your eyebrows, but this can be time-consuming, and it is difficult to achieve even and natural-looking results.
Grotting Plastic Surgery and Medspa provide two excellent, long-lasting solutions for fuller and more appealing eyebrows in Birmingham: microblading and ombré or powder brows.
These treatments involve eyebrow tattoo methods that offer similar results with subtle but distinctive differences.
Dr. James Grotting is a board-certified and award-winning plastic surgeon providing the highest quality surgical and non-surgical cosmetic services in Birmingham, Alabama, including microblading and powder brows. He oversees all non-surgical cosmetic treatments.
Am I a Candidate for Powder Brows or Microblading?
---
If you want to reshape your eyebrows and make them look fuller, powder brows and microblading are your best two permanent makeup options (PMU). The one that's right for you depends on the following:
Your skin type – Microblading is recommended for individuals with dry skin, while powder brows are typically better suited for those with oily skin.
Condition of your natural eyebrows – Thin or patchy eyebrows are best addressed with microblading to add subtle volume. If you want a more dramatic look, choose powder brows.
Your preferences – Powder (ombré) brows offer lush and meticulously shaped brows for that well-put-together look, but if you prefer the most natural-looking results, microblading may be your best option.
Lifestyle – If you are often exposed to the sun, participate in sports or other rigorous physical activity, and find yourself sweating a lot, your microbladed brows may fade faster. Consider choosing powder brows instead since they tend to last longer.
Schedule a Consultation
---
Another popular option is a combo brow technique that includes both powder brows and microblading. This combination may be recommended for those with very thin eyebrows, as powder brows can provide shading for more body, while microblading helps maintain the most natural brow appearance.
At Dr. Grotting's Birmingham Medspa, our powder brows and microblading expert will evaluate your eyebrows and help determine which approach is right for you or if combining the two will deliver the best results.
Individuals under the age of 18 or who have the following conditions should not undergo PMU procedures, including microblading or powder brows, as they have a high risk of complications:
Viral infections
History of keloids
Pregnant or nursing
Organ transplant recipient
Allergies to metal or pigment
Major heart problems or pacemaker
Recent or current Accutane treatment
Skin condition near the eyes or forehead
Autoimmune disorders or compromised immune system
Some clients should be cleared by their primary care physicians before receiving a PMU procedure, including those with:
Diabetes
Glaucoma
Thyroid condition
High blood pressure
Receiving chemotherapy
Model
How Are Powder Brows and Microblading Performed?
Microblading
Before a microblading treatment, the eyebrows and forehead are thoroughly cleansed, and a numbing cream is applied to the area.
The microblading procedure involves our eyebrow artist, Brandi, using a handheld device to make small strokes in the brow, creating artificial but realistic eyebrow hairs one at a time. This device produces small scratches that allow the semi-permanent pigment to penetrate the skin.
Following your microblading treatment, a calming serum is applied to reduce redness or irritation and help your eyebrows heal faster.
Powder Brows
While the powder brow procedure is less invasive than microblading, it is more comprehensive and lasts longer.
This approach also uses a handheld device, but instead of etching small lines, it uses an airbrush-like technique to draw dashes that simulate brow hairs and dots between the hair follicles to deposit pigment throughout the eyebrows for a more solid look.
How Long Do Microblading and Powder Brows Take?
Microblading generally takes thirty minutes to an hour, while powder brows take about two hours to complete.
Does Powder Brows or Microblading Cause Any Pain?
Microblading penetrates deeper into the skin, but the applied anesthetic should prevent any pain during the procedure.
Because powder brows are less invasive, a numbing cream may not be needed but is usually available for clients who want to avoid any possibility of discomfort.
Is There Downtime After Powder Brows or Microblading?
---
After your microblading session, you are likely to see redness around the eyebrows and feel moderate discomfort, at which time scabs will develop. This shouldn't last more than a few days.
After receiving a powder brow treatment, you may experience some temporary redness and mild swelling. Your eyebrows will look dark for a few days before they begin to scab.
Both microblading and powder brows can take up to three weeks to fully heal. Microblading often causes patches of scabs to appear, while powder brows usually lead to one big scab.
Are There Risks Associated With Powder Brows and Microblading?
---
The main risks associated with all PMU treatments are undesirable results and infection. Individuals with certain medical conditions (as mentioned above) should avoid permanent makeup procedures.
Schedule a Consultation
What Are Some Frequently Asked Questions About Powder Brows and Microblading?
---
What Will My Powder Brows or Microblading Results Be Like?
Microblading treatments at Dr. Grotting's Medspa provide fuller, well-shaped, and natural-looking eyebrows.
With powder brows, your eyebrows may look too dark at first but will fade quickly to reveal lighter, neatly shaped, and softer brows.
---
How Long Will My Powder Brows or Microblading Results Last?
You can expect your microblading results to last about two to three years, while powder brows can last between two and four years.