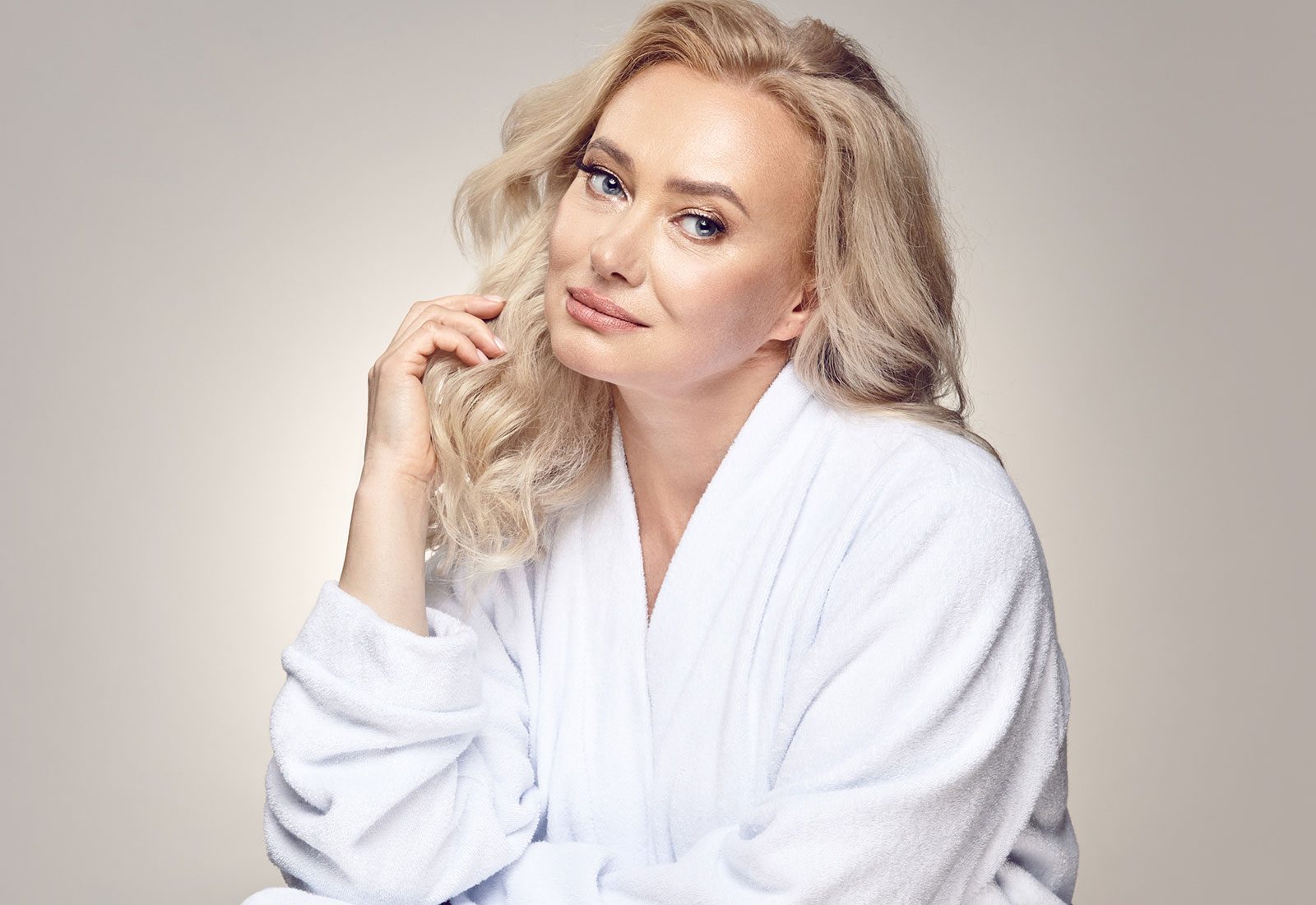 Model
Facelift
---
The harsh realities of aging are perhaps more visible on the face than anywhere else on the body. The aging process leads to a coarse skin texture, loss of youthful facial fat, and a lack of defined and angular facial contours. The skin and fat descend from the cheeks, jaw, and neck, creating jowls and bags of sagging skin. Facelift surgery offers immense value in that it can counter these effects of aging and give the face and neck a more rested and youthful appearance. While many surgeons perform an extended SMAS technique for facelift surgery, Dr. James C. Grotting has developed a simplified facial rejuvenation procedure known as the delta facelift, a surgical evolution inspired by the results of a patient-oriented questionnaire/survey tool known as FACE-Q. With patient feedback, Dr. Grotting has been able to refine the facelift procedure to produce even more desirable results.
What Do You Desire?
---
Youthful Facial Contours
In recent years, we have come to understand that the face ages not only by gravitational descent, but also by a noticeable "sinking in" due to the loss of volume. This volume depletion has led to the popularity of dermal fillers to restore facial volume. However, the most widely available "filler" for use during facelift surgery is a patient's own fat. Dr. Grotting commonly uses small amounts of tummy or hip fat to smooth out some of the creases and depressions around the mouth, the dark circles under the eyes, and even the temples and lips. The use of fat has revolutionized facial rejuvenation and gives patients a youthful and soft appearance.
Youthful Facial Definition
Skin that is healthy, youthful, and plump contains ample amounts of collagen and elastin, two essential proteins that help the tissues maintain their strength and ability to contract after being stretched. Due to the natural depletion of collagen and elastin over time, aging skin becomes progressively more lax and is unable to retract as it could in its youth. Sagging jowls, a turkey neck, and an ill-defined jawline are just a few of the manifestations of facial aging with skin and tissue laxity. Facelift surgery removes the skin that is in excess and tightens the remaining soft tissues to improve facial definition, refine facial lines, and rejuvenate the appearance.
Smooth, Soft Skin
Fine lines, wrinkles, creases, and folds have long been despised as being the first definitive signs of facial aging. As the skin loses elasticity, soft tissues of the face droop, and fat deposits shift and diminish, facial lines inevitably develop and betray the passage of time. Using a unique surgical approach that repositions the soft tissue and tightens the skin, facelift surgery corrects wrinkles and produces smoother skin. The incorporation of fat with the delta facelift surgical technique improves the quality of the skin, helping it to appear soft, full, and healthy.
Youthful Self-Confidence
The confidence of youth can gradually become replaced by discouragement and self-deprecation as time goes by. Unwanted changes to your physical appearance, endurance, strength, and mental clarity can subdue youthful zeal and replace it with insecurity and diffidence. Restoration of a youthful appearance allows the face in the mirror to reflect a younger version of yourself, and this can foster a positive self-image, a powerful sense of self, and unwavering self-confidence.
Model
Facelift Options
Delta Facelift
The delta facelift removes excess skin and fat from the face and neck area. This simplified facial rejuvenation technique corrects skin laxity of the face and neck as well as contour problems caused by protruding fat. The surgical incisions start beneath the sideburns and then follow the natural curves and creases where the ears meet the face. If there is considerable neck skin laxity, the incisions extend behind the ear back into the hairline.
The facelift repositions and supports the underlying structures and drooping skin based on the needs identified by the preoperative analysis. Where fat injections are recommended to correct volume loss, liposuction is first performed on an area such as the abdomen or hips, and the harvested fat is processed and reinjected to the face. Based on patient-reported outcomes with FACE-Q, Dr. Grotting has developed a platysmal division technique using two vertically oriented vectors to lift the lower face and jowl area, leading to marked improvements in the appearance of the neck after facelift surgery.
Mini Lift (Short-Scar Facelift)
The mini lift (short-scar facelift) is a generally less invasive procedure that is all some patients may require. It is also sometimes performed after an initial facelift surgery. This procedure may be performed when minimal sagging appears in the facial and neck tissue. As a secondary procedure, sometimes called a facial "tuck-up," the mini lift can be performed using the same primary surgical incision used in facelift surgery, starting beneath the sideburns and following the curves and creases where the ears meet the face. The mini lift usually requires less surgery than the full facelift procedure and therefore has a shorter recovery period.
Concerns
---
Consultation
Prior to the facelift procedure, patients meet with Dr. Grotting for a one-on-one surgical consultation. Personal details are discussed, including your facelift goals, medical history, medicine or substance use, and other critical factors. Dr. Grotting will conduct a preoperative analysis to evaluate the quality of your skin, looseness at the jawline, the angle from the chin to the bottom of the neck, and the amount of fat and excess skin present in the neck area. This evaluation determines the details of the facelift procedure. Your treatment plan will be determined, and you will be instructed on how to prepare for the procedure and recovery.
Recovery
As your comfort and safety are our highest priority, we prefer that you spend the first night after your surgery in the Hyatt Place Hotel behind our facility with one of our caregivers to make sure that your first evening of recovery is as easy for you as possible. We will monitor you to make sure that your recovery is as smooth as it can be.
Most patients will experience some bruising, discomfort, tightness, swelling, and redness for the first few days or weeks of recovery. You can expect to feel (but not usually see) a few little bumps on the skin that will even out over time. You should be able to go out in public wearing makeup within a couple of weeks, but this will vary from patient to patient. It is important to limit your activities for several days and not drive until your doctor gives permission. It will probably be two to three weeks before you can return to work. You may have decreased sensation in your face for a month or so, but the feeling will gradually return to normal. The recovery timeline may be shorter after a mini lift than after the delta facelift.
Scars
There will be permanent scars from the facelift procedure. At first these will appear red, but they should fade and become inconspicuous. The incision lines are strategically placed to minimize scarring. Following postoperative instructions and having a healthy recovery are among the best ways to reduce the prominence of scarring.
Pain
Some tenderness, tightness, and discomfort are common during the recovery after facelift surgery. Pain medications are provided for your comfort and may be used until they are no longer needed. Discomfort should be minimal. If you experience intense pain, contact your surgeon right away.
Frequently Asked Questions
---
What kind of anesthesia is used?
Facelift surgery can either be done under local anesthetics with sedation or under a light general anesthetic. Many patients prefer the latter simply for comfort and because it allows them to remain asleep for the entire duration of the procedure.
---
Is a facelift ever combined with other procedures?
---
How long is the facelift procedure?
A facelift is a delicate procedure that may take several hours to perform. When a facelift is combined with other facial procedures, the surgery can last up to six hours.
---
How soon after a facelift should I get a mini lift?
Following facelift surgery, the aging process continues. The skin continues to lose its elastic properties, and gravity contributes to skin looseness in the lower face and neck. The timing and extent to which this may happen are impossible to predict. Age, genetics, ethnicity, health, illness, stress, nutrition, and other factors all affect how soon a mini lift procedure may be considered or recommended. Not all patients will require a secondary procedure.
Schedule your consultation with Dr. Grotting to learn about your options for facial rejuvenation based on the condition of your skin.
---
What are the risks of facelift surgery?
As with any surgical procedure, the general risks of facelift surgery include bleeding, infection, and anesthesia complications. Though rare, some patients may develop a hematoma, which is a pocket of blood and fluid that must be removed. A little discomfort during recovery is common, but any that occurs should be controlled with pain medication.
---
What results can I expect?
Facelift surgery rejuvenates the facial tissues and can lead to a naturally youthful appearance. The results of facelift surgery are highly dependent on the elasticity of the skin and may be more significant in patients younger than 50. With the modifications that Dr. Grotting has made to the delta facelift based on patient feedback from the FACE-Q questionnaire, his facelift results are now even more pleasing and yield a defined neckline, youthful facial contours, and rejuvenated facial skin.
I have the utmost respect for the integrity and skills of Dr. Grotting and his staff. Dr. Grotting is a perfectionist , and gives the look of not having a facelift. I am so glad that I chose him!