Posted February 16, 2021 in Facial Rejuvenation
6 Minute Read:
As time marches on, it can become difficult to ignore the small imperfections in your face. Wrinkles and lines can become more prominent, skin starts to sag, and age spots develop. It used to be that the only options to address these issues were makeup (a short-term and labor-intensive process) or facelift surgery (which is an invasive surgery that requires several weeks to recover from).
Fortunately, non-surgical options are now available to treat these concerns and provide patients with a younger-looking face. Although these options will not result in the same improvement as surgery, they are often enough to make you look younger.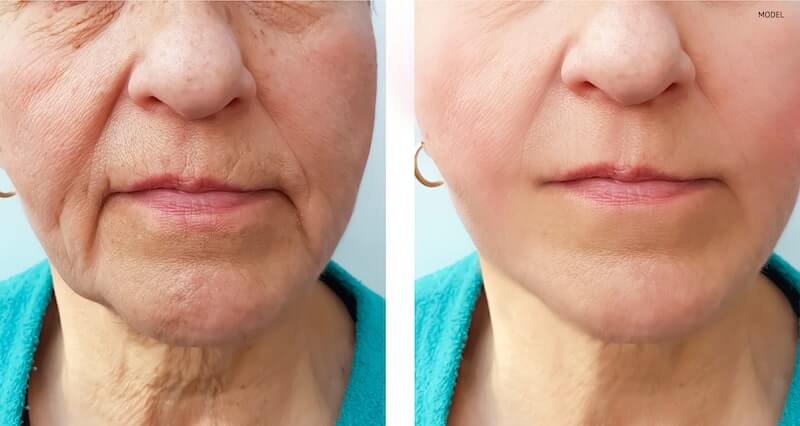 Table of Contents
What Facial Procedure Should I Start With?
Should I Start With Chemical Peels?
Should I Start With Injectable Treatments?
Should I Start With Laser Resurfacing?
What Are the Most Effective Non-Surgical Face Treatments?
What Do Radio Frequency Treatments Do?
What Do Deep Chemical Peels Do?
When Should I Choose a Facelift?
Interested in Learning More About Facial Procedures?
What Facial Procedure Should I Start With?
There are several non-surgical options available for patients who choose Dr. Grotting to help them improve their appearance.
Should I Start With Chemical Peels?
There are two broad types of chemical peels—superficial and deep. Superficial peels are often an excellent place for patients to start if they want to look better quickly.
A major benefit of superficial peels is patients don't need to spend lots of time recovering after treatment. These treatments will make the skin look younger and brighter for a couple of months. They should be combined with a good skin care program, so we encourage you to develop a plan with one of our skilled aestheticians.
Deep chemical peels are reserved for patients with extensive sun damage, deep wrinkles, or even a history of multiple skin cancers. We prefer the phenol croton oil peel, which typically takes a week to heal but can result in remarkable improvement in your skin color and texture.
Should I Start With Injectable Treatments?
If you are looking for something a bit longer-term than a superficial chemical peel to treat your wrinkles or are looking for a way to restore volume, injectable treatments are a good way to go.
Dr. Grotting offers several different neuromodulators and dermal fillers to smooth out wrinkles and fine lines and restore lost facial volume. The results of these treatments can last between three months and two years, depending on the chosen injectable. We encourage patients even in their twenties to begin using neuromodulators (like BOTOX cosmetic) to prevent deeply etched wrinkles from forming.
If forehead wrinkles are of greater concern, Dr. Grotting offers several different neuromodulator treatments, including BOTOX® Cosmetic, Dysport®, XEOMIN®, and Jeuveau™. Neuromodulators treat wrinkles by reducing the muscle contractions that cause them. This allows wrinkles to heal and prevents new ones from forming. The effects of these treatments often last three to six months.
On the other hand, dermal fillers do not affect muscle movement but, instead, physically "fill" depressed facial areas to reduce wrinkles and restore volume. Common injectable fillers include JUVÉDERM®, Restylane®, and RADIESSE®.
Should I Start With Laser Resurfacing?
Laser resurfacing treatments use an Erbium or CO2 laser to remove dead or damaged skin cells from the face. This effect can create similar results as a superficial chemical peel but is far more precise with results that last longer. Lasers traditionally take longer to heal than superficial chemical peels, but it is entirely related to the depth of penetration into the skin.
Certain lasers can also correct skin discoloration, which can be especially attractive to people with apparent birthmarks, sun spots, or scarring.
What Are the Most Effective Non-Surgical Facial Treatments?
When considering the most effective non-surgical face treatment, it is important to consider which condition you want to be treated. A treatment to remove deep wrinkles will be very different from one aimed at reducing the appearance of scars. That said, some treatments are more effective than others.
The following treatments should be performed after a plastic surgeon has examined your condition and determined that the treatment will achieve the desired results.
What Do Radio Frequency Treatments Do?
Radio frequency treatments, especially FaceTite®, can tighten sagging skin, reduce wrinkles, and recontour the face. This is a solid alternative to facelift surgery for qualifying patients, usually early in the aging process. While not quite as effective as a facelift, radio frequency treatments can provide exceptional results with less downtime, fewer risks, and a lower cost. We usually reserve these approaches for patients under 50.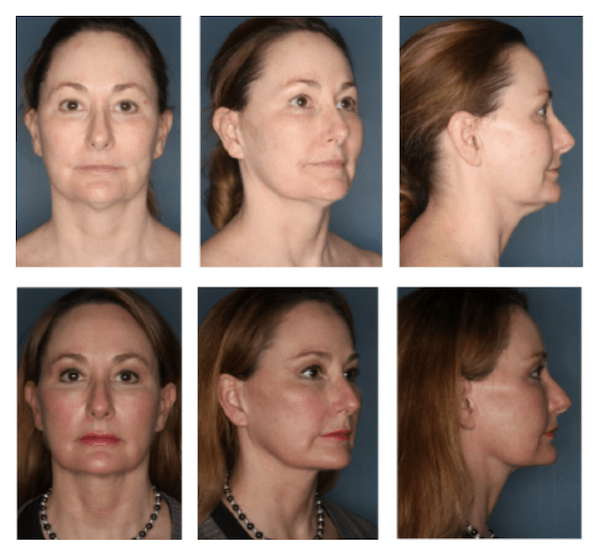 Dr. Grotting's patient desired non-surgical neck tightening after a previous facelift seven years earlier. The result of her FaceTite® procedure is shown at six months.
What Do Deep Chemical Peels Do?
Unlike superficial chemical peels, deep chemical peels are an advanced surgical procedure that affects the face's underlying tissues. Deep chemical peels cause the skin to produce more collagen, a natural compound that keeps the skin firm and flexible. Superficial chemical peels only treat the upper layers of the skin and must be reapplied regularly. A deep chemical peel, however, usually only needs to be done once to achieve the desired benefits, but it takes longer to heal.
What Do Fat Injections Do?
Fat injections, or fat transfer, are injectable treatments with some significant advantages over other injectable treatments. Dermal fillers and neuromodulators are highly effective, but both are inherently temporary. Fat injections, on the other hand, offer long-term results after a single treatment.
Fat transfer to the face takes excess fat from other areas of a patient's body (extracted using liposuction) and injects it into the targeted area. This allows fat transfer to restore volume to the face and smooth out wrinkles.
As the fat used for the procedure is naturally part of the patient's body, there is no risk of rejection or allergic reaction (as can occur with dermal fillers or neuromodulators).
The fat cells used in this procedure are alive. This means that once they get settled, the effects of the treatment are effectively permanent.
Results may change if the patient gains or loses an excessive amount of weight, and some volume loss will occur over time due to aging.
Still, fat injection can provide impressive results in the face for the long term. It is almost always done along with facial surgery but can be done alone or with laser resurfacing as well.
When Should I Choose A Facelift?
Sometimes non-surgical methods don't do the trick.
Maybe you have tried injectables and chemical peels for a while, and they do not provide the long-term results you want. Or perhaps laser or radio frequency treatments just are not achieving what you want.
Whatever the reason, facelift surgery can achieve results that non-surgical results cannot match.
Facelift surgery can reposition and lift facial tissues, which is something non-surgical options cannot replicate.
Facelift surgery can also remove excess skin, which can roll back the clock on the face by years.
Interested in Learning More About Facial Procedures?
If you are interested in learning more about facial procedures or plastic surgery near you, contact board-certified plastic surgeon Dr. James Grotting by calling (205) 930-1600 or filling out our online contact form.